In October, an unidentified gang of men hung signs that said "gay club entrance" to ensure that no one could enter Central Station anonymously.
"It's very dangerous to go to the club with that kind [of] advertising," said Lishchinsky.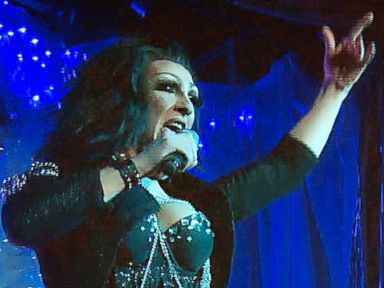 "Look up at the banner," said Anton Krasovsky, a longtime patron of the club. "The sign means exactly: gay people, the people of the second class, are here in this building. If you want to beat them up, you're welcome to."
Lishchinsky, the club manager, said the signs have led to a new spike in gay muggings and bashings outside the club. In November, he said, two armed men tried to break into the club and left bullet holes through the front door.
"They say, 'We would like to kill gays. We hate gays'," said Lishchinsky, describing the attackers.
"Twenty-first century Moscow," Krasovsky said, in disbelief. "It's not Bagdad. It's not Kabul. Moscow. It's like Stonewall in '68. But nobody protest."
"Our police, unfortunately, don't help you because they hate gay society," said Lishchinsky.
The attacks have hurt business. And yet, despite the dangers, the drag queens return each night.
"For many of us, it's just like our home; it's our family," said Alexei. "We can't just leave it."
Throughout November and December, Lishchinsky said, the internal ventilation system was rigged to attack patrons with water and, in some cases, toxic gas. There have been more than eight gas attacks, he said, forcing hundreds of club-goers to evacuate.
"If people stay in the premises during all the time, they have headache and they have to throw up," he said.
A chemical report provided by the club showed hydrogen sulfide, a potentially deadly gas, was found in the dance room in amounts 75 times higher than acceptable Russian government safety norms.
In another attack, a group of 50 men strong-armed their way onto the property and went into the attic, where, Lishchinsky said, they destroyed the roof and stole property before engaging in a shoot-out.
A "morality patrol" van monitors the club, videotaping patrons as they come and go, which, Lishchinsky argued, is another form of harassment.
"We just want people to know that the LGBT community is there," said Nikita, a member of the "patrol." "Because underage kids can be tempted to go there. ... So we just want the younger generation to be able to make a choice -- that you can develop in different ways."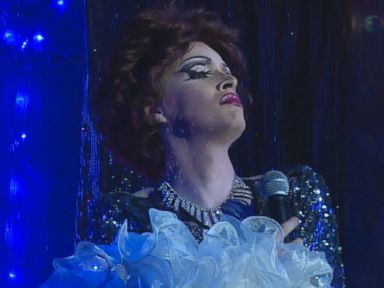 Nikita and Sasha, the men who drove the van, denied that they were there to harass or expose gay people. Instead, they said, they were there to provide security for the guests and to make sure nothing illegal happened.
The "morality patrol" had heard of the attacks and suggested that extremist anti-gay groups were responsible, pointing out that many local groups disapprove of gay clubs and homosexuals.