"The whole time I was driving I was shaking. I was so confused," Bray said. She later headed south with Steve to Corpus Christi, Texas, to find a fresh start and checked into the motel where police eventually found them.
Police later learned that Steve had no idea that Bray was a missing woman. "It was just somewhere to go," Bray said of driving to Texas. "It was my escape. It was my way out."
Bray said she didn't think leaving Oklahoma in Chad's truck would get police involved and she blocked out the ramifications.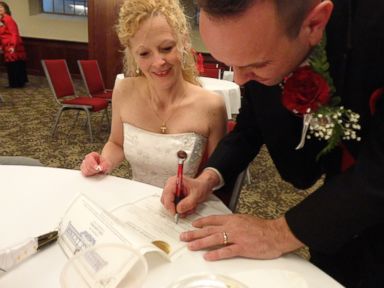 "I mean, all I was doing was leaving," Bray said. "In my thought, it wasn't against the law to take off and leave and not tell anybody where I was going."
However, after logging 6,500 miles, spending 685 man hours and more than $34,000 on the case, the Oklahoma State Bureau of Investigation had no sympathy for Bray. She was arrested for unauthorized use of McGuire's truck and false reporting of a crime.
"I was happy I wasn't a suspect anymore," McGuire said. "I was glad that she was found alright, you know, safe, but I wasn't too happy."
Bray was able to cut a deal with local authorities and would serve no more jail time for the charges she faced, as long as she paid back the $34,000 spent on her case.
Today, Bray works 60 hours a week as an accountant for a construction firm to pay the OSBI back $560 a month for the next five years. Her ex-fiancé hopes she does well. "I moved on. She's moved on," McGuire said. "I'm hoping she does good."
Nearly four years later, Bray has even found love with Tommy Lewis, the family friend who helped search for her. A relationship between the two bloomed after Lewis invited her to church, and they eventually married.
When asked whether he was worried Bray wasn't going to show up on their wedding day, Lewis laughed and said, "I'd be lying if it didn't cross my mind."
"I'm very grateful that they did find me," Bray said. "Because I don't even know to this day where I'd be if they wouldn't have found me."