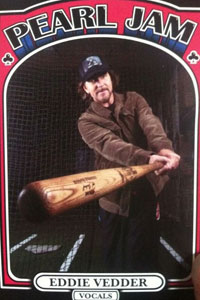 Eddie Vedder will be eligible for the Rock and Roll Hall of Fame in 2016, but he's such a big baseball fan he probably wishes he were eligible for Cooperstown as well. Actually, he probably would be satisfied if Cooperstown simply housed a Cubs world championship banner/trophy that is less than a century old.
Yeah, Well, That's Like, Just Your Opinion, Man
Did I Mention The Rock And Roll Hall Of Fame Elects About A Half-Dozen Acts Each Year? It took awhile. And I'm not proud of my ballot. But as colleague Jayson Stark noted, the BBWAA's 10-man limit means no one is happy with his or her ballot. So here's who I voted for: Craig Biggio, Barry Bonds, Roger Clemens, Tom Glavine, Greg Maddux, Edgar Martinez, Jack Morris, Tim Raines, Frank Thomas and Alan Trammell. Left off my ballot were several players I've voted for in the past (Jeff Bagwell, Mark McGwire and Mike Piazza), along with several others I still want to find room for ( Mike Mussina and Curt Schilling). But until the 10-man limit is lifted -- a move the BBWAA is considering -- I won't be happy with my vote. The limit forces many writers to vote an agenda rather than our complete opinions.
For instance, I voted for Morris because this is his last year on the ballot, though I don't think he's as good as several players I left off. (And in case I haven't made it clear in the past, the reason I vote for PED suspects is because the substances allegedly taken were not banned at the time, which makes their use no different from taking greenies, which so many Hall of Famers did.)
There Is No Debate Over What Cap These Guys Wear Because I'm Not Sure Our Hall Has Plaques. While the BBWAA ballot will be revealed Wednesday at 11 a.m. PST, the Internet Baseball Writers Association of America announced its vote earlier this week. I'm a member of both and am happy to say the IBWAA voted Greg Maddux, Tom Glavine, Frank Thomas and Craig Biggio into our hall. I would have preferred more inductees, but four is definitely better than none. Fingers crossed the BBWAA follows our lead. Learn more about the Internet writers group at IBWAA.com.
Yet Another Loss For Padres Fans. We lost a Hall of Fame broadcaster over the weekend with the passing of Jerry Coleman, who was the voice of the Padres for four decades, and their manager in 1980. He also won four World Series as a second baseman with the New York Yankees during a playing career that was limited by his military service in both World War II and Korea. I didn't know Coleman or get to hear him much, but I do fondly recall one spring training encounter when a fellow writer asked him whether Marilyn Monroe -- who married Coleman's old teammate, Joe DiMaggio -- was really as attractive as her reputation. "Nah," Coleman said sarcastically. "We just had really bad eyesight in those days." Coleman was the reliable eyes and ears for fans in the broadcast booth, and he also had a long and distinguished career on the field and in the service of his nation. It's just a shame that in addition to all he accomplished, he never got to tell listeners, "And the Padres win the World Series!"
Rest in peace, Jerry.